Most sports and gambling websites are written by men, but the good news is, this one isn't! My name is Chloe, and I love both.
My love of sports is down to my father who introduced a reluctant little girl to baseball. As a player, he used to bring me to all the Minnesota games, and because he was my hero, I couldn't help but fall in love with baseball, and all the razzmatazz of live sports. There is nothing quite like attending a live game, being captured by the excitement of the crowd, and hoping and praying your team would be victorious.
Naturally, because my father was a Minnesota baseball player, I had the privilege of having free access to otherwise exclusive player areas. I attended training sessions, went on the team coach, and got to hold the occasional Minnesota trophy.
Apart from all the stadium baseball, my father often played baseball with us at home, and I just adored the mix of fun and competition. I guess, I was a bit of a tomboy, and on many occasions, when my girlfriends were watching Disney princess movies, I was glued to some sporting event on TV.
Our whole family was slightly "sport- mad" as a result of which we all ended up following multiple sports. Naturally, being from Brazil, my mother was crazy about football. Soon, I loved football just as much as baseball. By the time I was a teenager, I knew more about sports than all my male classmates put together. Funnily enough, they were ultimately the ones to introduce me to poker. I used to tease them about their lack of knowledge in sports and they would challenge me to a game of poker.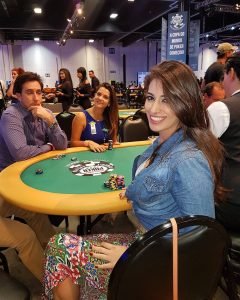 Unfortunately for them, it didn't take long before I started winning. Somehow I just knew how to play well. By the time I left high school, I had fully developed my two passions in life, and I knew I would need to follow my heart and try to make a living pursuing them.
Sports and Gambling – Two Passions Combined
When my father retired, we moved to my mother's hometown, Salvador, Brazil. I started playing poker professionally, worked in a number of casinos and gradually developed my game. I have been fortunate because I'm actually good at playing poker and within a few years, I have established myself as a worthy, professional poker player.
Now, I travel to various poker tournaments and make a decent living playing poker. The joy and adrenalin rush of a poker game still always remind me of the excitement of a live sporting event. There is nothing quite like it! On occasion, I combine my two passions and engage in some sports betting. My extensive knowledge of sports and my poker player instincts, combined with my love for both, make sports betting my favorite pastime.
This Website – Online Poker Classes
When you love something, you want to share it with other people, and that's why I've set up this website. I also wanted to teach people to play poker and illustrate, just how good a game it is. By offering online poker classes, I have been able to help countless people perfect their game, and get more enjoyment out of it.
Anyone can become a great player, provided they know the basics and can familiarize themselves with the various poker strategies. Poker is no longer exclusively reserved for a select few, a. Now, anyone can play, and online poker has really opened up this great game to just about anyone.
I have been amazed by the number of great female poker players, I have come across in this once male-dominated game. Thanks to their strong instincts, women have the ability to be equally good, if not better players!