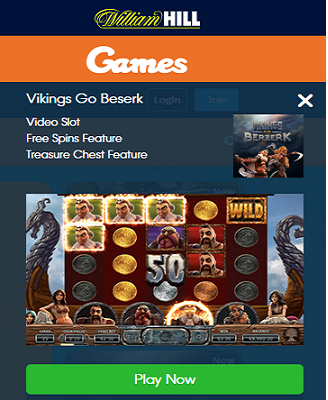 Vikings Go Berzerk is quickly becoming one of the most exiting online 3D slots to play judging by the multiple mega wins published on Youtube. Not only is the game thrilling with its epic soundtrack and fighting scenes between warriors and evil mermaids, the super Wild free spins are just too amazing to ignore.
The game is produced by Yggdrasil Slot Games, this being their second viking themed game release after Vikings Go Wild. The first title fought against sea serpents, this one focuses on mermaids and 4 long bearded warriors.
The 4 warriors are displayed on the lower side of the 5 reel and 25 lines, each with a fury meter that inflames every time they are their character symbol is triggered on the reel, where they defeat mermaids turning them into ash.
Free Spins
The Vikings won´t always win the fight, but when they do they turn into Wilds and stick throughout the reel as the bonus round lasts. There is also a treasure chest that shows up from time to time revealing several price cards, these will go blank and you need to pick one earning a mystery coin prize.
The Vikings Go Berzerk free spin bonus game is quiet famous as it tends to yields a multiplier that can take a few dollar bet and turn it into thousands of dollars. Youtube is full of recorded plays with players winning huge prices in just one bonus round.
If you are one of the lucky ones your character icons will end up filling up most of the screen with Wilds, most of the time you end with 5 after 8 free spins. The multiplier will end up being 20x to 30x in the end.
The Rage Meter
The special feature of this slot game is the rage meter. As more fights a warrior encounters and wins, the more rage it will accumulate increasing the chances of winning more often.
The rage meters makes these Vikings Go Berzerk
What makes this Vikings Go Berzerk slot special is the fact that every time you win on a Viking symbol, you increase that Viking's rage meter. It is important to reach the bonus round with your warriors and their rage meter full to go berzerk during the rounds, turning into multiple wilds.
Ragnarok Feature Bonus
The Ragnarok feature will instantly turn all of your Vikings into berzerk state. It shows up at the beginning of the free spin round were you get to pick a treasure chest, if you get lucky your warriors enter berzerk mode. It is almost guaranteed your final payout will be quite large.
Is Vikings Go Berzerk Worth a Try?
Most definitely YES!
Like all online slots, it won´t be easy to trigger the best possible bonuses on most occasions. It takes a large amount of rounds, luck and a big sized pocket to withstand the large betting sizes. The free spins come at an average of 100 to 150 spins and you are only guaranteed a high reward after hitting the Ragnarok feature. If not you might still make some good money.
Besides the huge wins the game itself is extremely fun and engaging, the soundtrack alone is one of the best players can find around online slots.
To play Vikings Go Beserk, you can visit UK's top slot games provider – William Hill and open an account today, claim an amazing first time deposit bonus and make huge amounts of money!