They come in their hundreds. Coachloads of Chinese tourists are deposited in the high street of Kidlington, Oxfordshire, and fan out to traipse across gardens, peer into the windows of redbrick 1970s bungalows and take selfies with road signs in perfectly ordinary suburban streets.
Just why they are there, nobody knows, and neither the visitors nor their tour guides speak English. Residents say that there is nothing remarkable about Kidlington, apart from the fact it was once reputed to be the largest village in England.
So why have Benmead Road and The Moors — the focus of the visitors' attention — suddenly become an international tourist destination? It is a mystery that even Inspector Morse might struggle to solve, though the television detective may be at its heart.
Some residents suspect that their visitors have been told that it was a location for Inspector Morse, the 1980s series starring John Thaw. Others think there may be a link to Harry Potter or another drama, Midsomer Murders.
Michael Parsons, a retired electrician, says that the visitors usually descend on a Thursday. "That's when the bins go out," he said. "I have seen them taking photos of the dustbins. They tend to get up close and to the houses, walking up to the windows and on the gardens. They also film the roses."
Mr Parsons, 77, added: "I have never seen tourists in the area before, I have no idea why they might be coming. They walk up and down the street but they don't seem to be doing any harm."
Netta Robinson, who has lived in the area for 50 years, said: "I don't think they really understand that these are private gardens. They probably think it's public land. Nobody is complaining, it is just peculiar. I haven't seen them doing anything wrong but the other day they were trying to ask my neighbour who was mowing her lawn if they could have a go. She said no."
Tony Bennell, who runs an entertainment agency in the village five miles north of Oxford, said: "You are used to seeing tourists going round the universities in Oxford or in places such as Bourton-on-the-Water, but not in Kidlington. There can be 40 of them at a time jumping out of their coach and taking selfies. They get very excited and really enjoy taking pictures in front of the gardens and flowers. Where people have benches out the tourists will just wander in and pose for selfies on them."
There is much speculation on the Facebook page Spotted: Kidlington. Some residents are embracing their new visitors. Paul Phillip wrote: "Don't knock it, I've been selling them cream teas at £8 a go."
Martin Tobutt posted a link to an episode of Inspector Morse on a Japanese website which translates as "Daughter disappeared from Kidlington", suggesting that this could be the reason for their presence. Another website called Location Oxfordshire says that the Boat Inn, on the canal in Thrupp just over a mile away, featured in several episodes of Morse.
Carole Pack, a parish councillor, said that police were called when a coach arrived at 6pm. She said: "People didn't like them walking up and looking through the windows. Neither the tour guide nor the coach driver could speak English. None of them could. We don't mind them coming but they are causing a bit of annoyance and worry."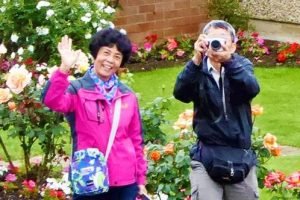 They could be simply be taking a rest stop en route to Bicester shopping village: the Oxfordshire retail outlet has become the top destination for Chinese visitors.
Chinese tourists are among the highest spending visitors to the UK, spending £2,688 a head on average. The fall in the value of the pound is good news for them. The villagers of Kidlington might consider being a little more welcoming and start selling them some stuff.
It may look like a small town, have all the facilities of a small town and the population of one (about 15,000) but Kidlington still claims to be a village. Perhaps Chinese visitors are there for the modern shopping centre with 50 shops, restaurants and cafés. Maybe they are attracted by the three bookies as China is a nation that likes to gamble.
Or maybe they are hoping to see the newly promoted Kidlington FC competing in division one of the Southern League.