Cream Eyeshadow Stick in Sparkle & Magic, above

£12.50, Rosie for Autograph (marksandspencer.com)
They say A velvety-soft, long-wear eyeshadow cream.
We say Is it antisocial to apply make-up during your commute? As long as it's not false nails — and believe us, we've seen it — then the answer is no, and that's where the Rosie Huntington-Whiteley range for Autograph comes in. Its cream eyeshadow stick beats loose powders and unwieldy palettes hands down on bus journeys. The formula is super smooth, so it glides on effortlessly and there's no need to use a brush — only a bit of smudge work with your index finger is required. Leave as a line on your top eyelid during the day and all you'll need is a quick retouch come dusk.
Scandaleyes Shadow Stick in Bluffing
£4.49, Rimmel London (boots.com)
They say A high-impact cream shadow stick that applies in a flash.
We say Christmas party season is approaching, so in the spirit of organisation we suggest you stock up on Rimmel Shadow Sticks. At £4.49, it's worth buying a few colours to see which ones suit your eyes and skin tone. The putty-coloured Bluffing has just a hint of sparkle and is probably the most versatile of the bunch (although Blamed Blue and Trespassing Taupe are perfect if you plan to go big on the eyes and leave the lips naked). Draw a line across the top lashes, then blend upwards for a full, luminous lid that won't budge until carriages at dawn.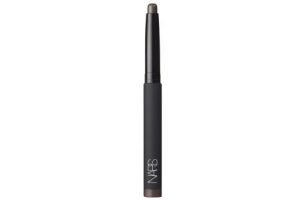 Velvet Shadow Stick in Dark Angel
£21, Nars (narscosmetics.co.uk)
They say A creamy, blendable eye shadow packaged in a convenient, portable stick. Perfect for wearing alone or under or over another eye shadow, this long-lasting formula glides on easily without skipping or dragging, and it won't fade, smudge or crease throughout the day.
We say While the round, chunky tip of the Nars Velvet Shadow Stick makes it simple to apply directly to the eyelid, it is perhaps easier to blend when applied with a brush or a finger. Despite its creamy texture, the Shadow Stick has a waxy quality that makes it quick to set, without feeling sticky — which is all too often the downfall of cream shadows. Its staying power is so good that it works well as a primer to help powder shadows to stay put. Blend outwards along the crease and outer corners of the eyelid to create an eye-opening look.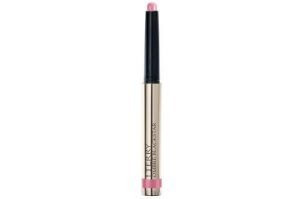 Ombre Blackstar in Misty Rock
£29, By Terry (spacenk.com)
They say Provides luminous colour for lusciously smooth lids with just a single stroke of the easy-to-use pen applicator. Its smudge and smear-free formula instantly airbrushes out skin creases, delivering light-reflecting radiance that acts as a rejuvenating lift for the eye area.
We say A beauty-blogger favourite, By Terry's creamy eyeshadow stick comes in 13 shades, ranging from a matt chocolate to a purple shimmer. Misty Rock is our top pick. A sweet, watermelon pink, the colour gets a rock-chic kick once applied to the eyes, with flecks of silver shimmer. Think of it as your new smoky eye for the party season — except that pink is much easier to apply than black, not to mention more forgiving. The metallic elements in the shimmer pen give a lift and polish to the eyelids, plus it is sheer enough to rim around the whole eye without much precision. Though £29 might seem dear, the creamy, melt-on-application formula is the best we've tried, thanks to a sumptuous ingredients list that includes Tahitian black pearl.
Colour Chameleon in Bronzed Garnet
£19, Charlotte Tilbury (charlottetilbury.com)
They say Cheat your way to intense, bedazzling eye colour in the stroke of a pencil. Bring out your eyes' natural gemstone sparkle with Colour Chameleon eyeshadow pencils, infused with synthetic sapphire.
We say The best thing about Charlotte Tilbury's chubby eye pencil is that it sets quickly, minimising the chance of greasy residue building up in your eyelid creases. Yet this doesn't mean that the pencil is hard and scratchy. It's the opposite, and glides on smoothly with a strong, pigmented colour that you can blend out with a finger or a rounded eyeshadow brush. The rich, shimmery bronze colour looks best on green eyes, Tilbury advises, and hits a sweet spot between a day and night-time look. Wear it lightly at your desk during office hours, then add another layer for dinner.